The April 4th Foundation Awards
The April 4th Foundation provides recognition through the issuance of awards to acknowledge and promote excellence in the field of economic justice and equality as Dr. King dreamed.
The I AM A MAN Award ®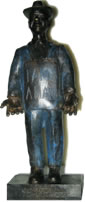 This award is presented to those individuals who continue to strive to keep Dr. Martin Luther King's &quot Dream &quot alive and to bring it into being.
The I AM A MAN Award ® was trademarked by the Foundation in 2003.
Past recipients of this prestigious award: Harry Belafonte, Judge Joe Brown, President William &quotBill&quot Clinton, William Lucy (AFSCME), Rev. Joseph Lowery (SCLC), Congresswoman Maxine Waters, Congressmen: John Conyers, Harold Ford, Sr., John Lewis, and Bobby Rush; Rev. Jeremiah Wright, Father Michael Pfleger, Dr. Tommie Tonea Stewart, the Birmingham Civil Rights Institute, and Rev. Dr. C. T. Vivian.
The Open Door Award



Based on Corinthians 2:12, this award is given to persons who have 'opened doors' for others. Starting in 2000, this award has provided a way of recoginizing the work of those paving the way to the realization of the &quotDream.&quot
Back to top